2021 Commencement Information
We are pleased to announce that the University of Detroit Mercy will honor the 2021 graduates at a virtual commencement ceremony on Friday, May 14 at the following time:
2:30 p.m. – School of Dentistry
Save this date and invite friends and family members to click the video below and participate in the ceremony. 
Commencement Program will be available for pickup on campus, further information to come.
Click here for Commencement Program.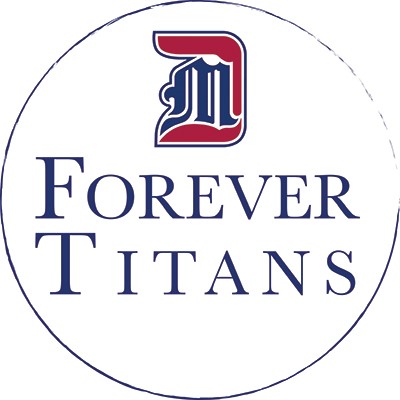 Graduates may also share photos and videos with Detroit Mercy by tagging @detmercy on Twitter or Instagram and using #DetroitMercy2021.
Remember to update your email and mailing address at udmercy.edu/alumni for access to event invitations, monthly alumni e-newsletters, our alumni magazine Spiritus twice a year and other important University updates and opportunities. Stay connected with your classmates with Forever Titans.
Visit Herff Jones to order class rings, graduation announcements, diploma frames and academic regalia.
Congratulations, Class of 2021 and GO TITANS!
Thursday, May 13 at 5:00 p.m. (EST). LIVE STREAMED from Ss. Peter and Paul Jesuit Church
The Class of 2021 and their families and friends are invited to view the live streamed service with their fellow graduates and Detroit Mercy Law and Dental faculty and administration. The Baccalaureate Mass, celebrating the 2021 Law and Dental graduates, offers a moment of quiet reflection and thanksgiving for your educational journey at University of Detroit Mercy, and an opportunity to ask for God's blessing as you begin your career. Members of all faiths and traditions are welcomed.
The Baccalaureate Mass is a tradition that dates back to 1432. The word Baccalaureate is from the Latin bacca, berries, and lauri, laurel. The word Baccalaureatus was then used to describe the laurel wreath given at commencements. According to tradition, students graduating from Oxford University were required, as their final test, to give a sermon in Latin to graduate. This practice was adopted into Catholic tradition and now the Baccalaureate Mass is a large component of most Catholic graduation ceremonies. Source:
www.livingourfaith.net
Please join the School of Dentistry Alumni Network for
Cocktails & Caps

virtual celebration honoring the Detroit Mercy Dental Classes of 2021
on Thursday, June 3 at 7 p.m.

LIVE Virtual Event
via the Zoom platform

Caps and Tams are Encouraged
Also, join the Alumni Network Watch Party at