2020 Commencement Information
We are pleased to announce that University of Detroit Mercy will honor the 2020 graduates at a virtual commencement ceremony on Sunday, Nov. 15 at the following time:
2:30 p.m. – School of Dentistry
Save this date and invite friends and family members to click the video below and participate in the ceremony. On Nov. 15, the commencement video will be available 30 minutes prior to the scheduled ceremony start.
Prior to the ceremony, we will mail graduates a copy of the Commencement Program, which includes the order of exercises. We will scroll through the list of graduates as they appear in the program during the virtual ceremony and as the dean provides remarks. The program will also be available online.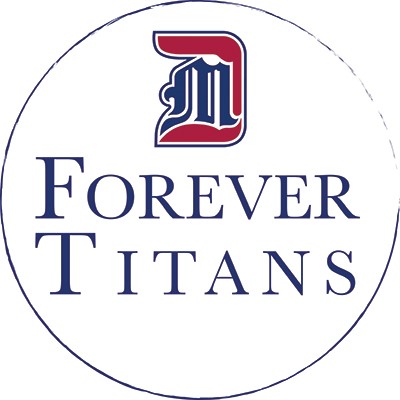 Graduates may also share photos and videos with Detroit Mercy by tagging @detmercy on Twitter or Instagram and using #DetroitMercy2020.
Remember to update your email and mailing address at udmercy.edu/alumni for access to event invitations, monthly alumni e-newsletters, our alumni magazine Spiritus twice a year and other important University updates and opportunities. Stay connected with your classmates with Forever Titans.
Visit Herff Jones to order class rings, graduation announcements, diploma frames and academic regalia.
Congratulations, Class of 2020 and GO TITANS!
 

Cap & Gowns

Inside your cap there is a "front" designation. Wear your tassel on the right side of your cap. You will be instructed during the ceremony when to change it to the left.  Regarding your hood, please follow the package directions. Consult your Faculty Marshals with any questions.

 

IMPORTANT: Seat Assignment and Announcer Card

Individualized 3x5" index cards will be distributed to each candidate during the processional lineup. Typed on each card are the candidate's name, phonetic pronunciation, and seat number. The sequence follows the seating chart and Commencement Program. Keep this card with you at all times and present to the Dean. If the card is not presented to the Dean, your name will not be read. 

 

Processional Lineup

Follow the specific instruction of your Faculty Marshals. Candidates will form double columns. If your partner is a no show, march alone.

 

Candidate Seating

In Calihan Hall, follow your Marshal's instructions and proceed to your numbered seat and remain standing. Leave seats empty for absent candidates. Seating is arranged alphabetically and serves to help your guests, if they are following the Program, to know when you will be awarded your degree.


Once the platform party is in place, the ceremony will begin. Throughout the ceremony, listen to the Grand Marshal's instructions. If your guests are interested in the general area where you will be sitting on the arena floor, have them review the seating diagram posted near the northeast entrance of Calihan Hall.
Details & Logistics
 

Attire

Commencement is a formal academic ceremony. Only approved academic regalia can be worn. Although Calihan Hall is not air-conditioned, fans will be used to circulate the air. Dress accordingly. With 1200+ graduates, faculty, and guests, depending on the weather, it may be warm. Since you will be standing in line and marching both in and out-of-doors for over an hour, comfortable shoes are recommended.

Gown decoration is strictly limited to university, college and school honor regalia. A listing of the approved items may be obtained from your college/school office or the Office of the Registrar. Caps should not contain adornments or messages. Candidates whose caps and gowns do not comply with the academic standards will not be permitted into the arena. You may not wear a cap and gown from another institution.

 

Guest Tickets/Seating

No tickets are required for the ceremony.  Please remember that seating is on a first come, first served basis, and once Calihan Hall is at capacity, no more guests will be admitted.  

 

Seating for Disabled Persons

Guest seating is on the main floor behind the graduates and overflow will be directed to the upper arena which is accessible only by stairs. A limited number of seats for disabled persons are available on the main floor. Only one family member is permitted to sit with those who require disabled seating. Escorted entry is through the northeast arena door only. Seats are on a first come, first serve basis. Strollers will not be accommodated in the disabled seating area.

 

Locations

Share a copy of the McNichols Campus Map with your guests so that they may familiarize themselves with the campus, its facilities and parking areas.


You may also wish to see the Driving Directions page.

 

Parking

Parking will be crowded, and campus traffic will be heavy. Please allow extra time and car pool.

Disabled parking, in front of Calihan Hall, is limited and restricted to those with valid disabled stickers or license plates.

 

Suggested Detroit Area Hotel Accommodations

Marriott's Fairfield Inn
32800 Stephenson Highway
Madison Heights MI 48071
248.588.3388
www.marriott.com

Hampton Inn/South Troy
32420 Stephenson Highway
Madison Heights MI 48071
248.585.8881
www.hampton.com

Downtown Detroit Courtyard
333 East Jefferson
Detroit MI 48226
313.222.7700
www.marriott.com

Troy Marriott
200 W Big Beaver Road
Troy MI, 48084
248.680.9797
www.marriott.com

Detroit Marriott - Southfield
27033 Northwestern Highway
Southfield MI
248.356.7400
www.marriott.com/DTWSL

Holiday Inn Express - Southfield
25100 Northwestern Highway
Southfield MI 48075
248.350.2400
www.hiexpress.com
Graduation Mass (Baccalaureate Mass) - 5:00 p.m. Thursday, May 7, 2020
 

Mass

Graduation Mass is celebrated in conjunction with Detroit Mercy graduation and is considered an integral part of the commencement activities. This year, the School of Dentistry and the School of Law will celebrate mass together. Candidates and guests of all faiths are invited to attend. It is a time to thank God for blessings received, and to pray for our future. Rev. Gilbert Sunghera, SJ will preside. No tickets or reservations are required.

 

Location & Parking

The Mass will be held at Ss. Peter and Paul Jesuit Church (601 East Jefferson Avenue, Detroit), which is adjacent to the School of Law. Graduates and guests may park in the Larned parking lot.

 

Graduates

Graduates attending Baccalaureate wear their graduation academic regalia, including their hoods, and gather by 4:30 p.m. at the law school in the first-floor hall opposite the Student Bar Association Office (Room 143).

 

Family & Guests

Go directly into the church, where you will be seated by the ushers. The procession begins at 5:00 p.m., so be sure to arrive prior to this time. No photography is permitted during the Mass.

 

Faculty

You are encouraged to participate. Academic regalia is worn for this occasion. Faculty assemble at 4:30 p.m. at the law school in the first-floor hall opposite the Student Bar Association Office (Room 143).

 

Employees

Employees are needed to serve as ushers, eucharistic ministers and singers. Please volunteer by contacting University Ministry. Any concerns or questions? Please call 313-993-1560, or stop by the ministry office, located in the Student Center across from the Bookstore.

 

History

The Baccalaureate Mass is a tradition that dates back to 1432. The word Baccalaureate is from the Latin bacca, berries, and lauri, laurel. The word Baccalaureatus was then used to describe the laurel wreath given at commencements. According to tradition, students graduating from Oxford University were required, as their final test, to give a sermon in Latin to graduate. This practice was adopted into Catholic tradition and now the Baccalaureate Mass is a large component of most Catholic graduation ceremonies. Source: www.livingourfaith.net
Graduation Requirements
Please call the School of Dentistry Registrar's Office 313-494-6616.
Cap & Gown
If you have questions beyond what is covered on this web site, contact the Office of the Dean at 313-494-6620.
Guest Hooders and Pinners
Please call the Office of the Dean at 313-494-6621.
Graduation Day
If you have questions beyond what is covered on this web site, contact the Office of the Dean at 313-494-6621.
Graduation/Baccalaureate Mass
For more information, contact Campus Ministry 313-993-1560.
Interpretation for the Deaf
Please call 313-578-0310.