Be a Part of Detroit Mercy Dental
The University of Detroit Mercy School of Dentistry is committed to offering students a dynamic and comprehensive academic environment. We are dedicated to being a provider of top-notch clinical care and believe that a professional life includes serving those in need.
We invite you to become a part of a collaborative culture of influences as learners and leaders.
The Mission
The University of Detroit Mercy School of Dentistry, in the Jesuit and Mercy tradition, through the integration of research, scholarly activity, evidence-based teaching, and service, fosters a forward thinking, inclusive learning environment committed to developing competent, socially and ethically sensitive healthcare professionals who are committed to patient care and community wellness.
News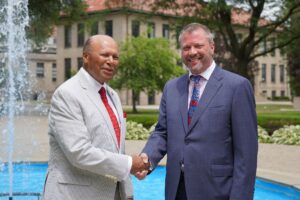 Thu, June 30, 2022
Today we'd like to extend a big thank you for his 11 years of leadership to our outgoing president, Antoine Garibaldi, as well as welcome our 26th president, Donald Taylor! President Taylor's official first day is Friday, July 1. He joins Detroit Mercy after serving as the president at Cabrini University, a private Roman C...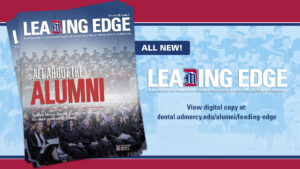 Mon, June 6, 2022
Read the new Issue of Leading Edge All About the Alumni, a sample of individual alumni who have made marks in the professions and in the world. Though their experiences have been different, they all embody what it means to be a Detro...
Wed, June 1, 2022
Fri, May 27, 2022
Thu, May 12, 2022
Tue, May 10, 2022
Alumni and Community
Career Help

Find a Trusted Detroit Mercy Dentist