About Detroit Mercy Dental

Mission
The University of Detroit Mercy School of Dentistry, in the Jesuit and Mercy Tradition, creates, cultivates, and sustains a community of dedicated healthcare professionals, that are committed to excellent patient care and community wellness through evidence-based scholarly activity, research, teaching, and service in an inclusive environment.
Vision
To lead the advancement of dental education and oral health in diverse populations.
Values
Our values are intrinsic to the School of Dentistry community and can be summarized as "Let's RISE".
Life-long Learning: We promote life-long learning and development to achieve our potential.
Respect: We embrace inclusiveness, compassion, respect, and diversity.
Integrity: We demand integrity and hold ourselves accountable.
Service: We are committed to serving our patients, community, students, colleagues, alumni, institution, and the profession of dentistry.
Excellence: We thrive for excellence.
History of the School of Dentistry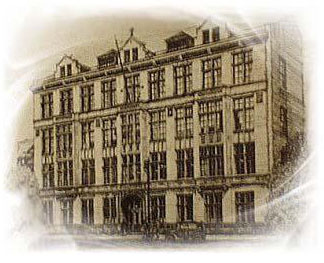 The School of Dentistry was founded in 1932, graduating its first class of students in 1935. It was originally located in the path of what became the Chrysler Freeway and moved in 1963 to East Jefferson Avenue, one mile east of the core of Detroit. In 1997, the School relocated into a new teaching and patient care facility on the University of Detroit Mercy's Outer Drive Campus. In January 2008, the School relocated to the Corktown Campus. The new facility is comprised of two, four-story buildings, containing 190 clinical operatories, state-of-the-art classrooms, and a simulation laboratory with a seating capacity of 100. The dental hygiene program was initiated in 1950, the postdoctoral endodontic program in 1959, and the postdoctoral orthodontic program in 1963. In 2004, advanced education programs in general dentistry and periodontics were initiated.
Accreditation

The University of Detroit Mercy School of Dentistry's programs in dental hygiene, predoctoral dental education and advanced specialty education (Advanced Education in General Dentistry, Endodontics, Orthodontics and Dentofacial Orthopedics, and Periodontics) are fully accredited by the America Dental Association's Commission on Dental Accreditation (CODA). The University of Detroit Mercy is fully accredited by the Higher Learning Commission of the North Central Association of Colleges and Schools.
Commission on Dental Accreditation Complaint Policy
The Commission on Dental Accreditation will review complaints that relate to a program's compliance with the accreditation standards. The commission is interested in the sustained quality and continued improvement of dental and dental related education programs but does not intervene on behalf of individuals or act as a court of appeal for individuals in matters of admission, appointment, promotion or dismissal of faculty staff, or students. A copy of the appropriate accreditation standards and/or the Commission's policy and procedures for submission of complaints may be obtained by contacting the Commission at 211 East Chicago Avenue, Chicago, IL 60600 or by calling (800) 621-8099 ext: 2719