Detroit Mercy Alumni Achievement Spirit Awards
Each year, University of Detroit Mercy chooses an alumnus from each of its Colleges or Schools to honor as someone who has excelled in his or her profession, demonstrated outstanding leadership in work and devoted himself or herself in service to the larger community. Award recipients reflect the University's mission of excellence and service and bring pride to their alma mater.
2021 School of Dentistry Alumni Achievement Spirit Award Honoree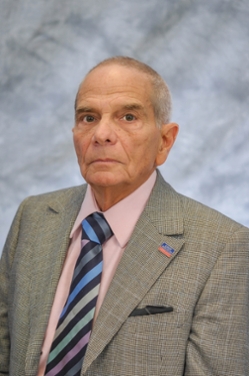 Richard Persiani, D.D.S. '73, M.S.

Detroit Mercy Dentistry is pleased to announce Richard Persiani, D.D.S. '73, M.S. as this year's Alumni Achievement Spirit Award Honoree.
Persiani has served on the Detroit Mercy Dental faculty for more than 45 years, and has served on the craniofacial surgical team at Providence and Beaumont hospitals. He also uses his skills to provide medical treatments to the community, both local and global.
He is the founder of the dental clinic at Vista Maria Community Services where he provides dental care for young women who have suffered the effects of abuse, neglect and trauma, as well as the Sisters of the Good Shepherd, who run the center. For 10 years, he was the co-director of the Children's Tooth Fairy Foundation, providing dental care, financing, support and logistics for more than 2,000 underserved children in Wayne County.
He has participated in more than 30 mission trips with Operation Smile, providing surgical care for children with cleft lips or palates.
Closer to home, he and his wife, Penny, who he met while in dental school, also volunteer with the penguins and kangaroos at the Detroit Zoo and have the unique title of Distinguished Clowns in Detroit's annual Thanksgiving Day Parade.
Read a story about Persiani's charity work and how he met his wife.
Spirit Award Honorees
2016 – Dr. Richard Golden, '71
2015 – Dr. William Knysz Jr., '75
2014 – Dr. John A. DiBiaggio, '58
Alumnus of the Year Awardees
1972 Dr. Joseph Syron, '54
1973 Dr. Richard Litt, '65
1974 Dr. William Quinn, '42
1975 Dr. Henry Dziuba, '42
1976 N/A
1977 N/A
1978 Dr. Stephen Weshale, '52
1979 Dr. Julius Chikos, '54
1980 Dr. Leo Shipkop, '51
1981 Dr. Edward Ribitsp, '45
1982 Dr. Donald Pokorny, '53
1983 Dr. Paul A. Jacobs, '58
1984 Dr. Stephen Baynai, '52
1985 Dr. Donald S. Rumon, '52
1986 Dr. Richard N. DiLaura, '56
1987 Dr. Leo Shipko, '51
1989 Dr. Leonard W. Wades, '54
1990 Dr. Daniel Goodman, '46
1991 Dr. Paul J. Mentag, '47
1992 Dr. Robert Moseley, '51
1993 Dr. William R. Chase, '72
1994 Dr. Rodney Hyduk, '74
1995 Dr. Joseph Caurdy, '61
1996 Dr. John Hinterman, '69
1997 Dr. George Bletsaas, '66
1998 Dr. Charles J. Cooper, '58
1999 Dr. William Berkowski, '74
2000 N/A
2001 Dr. Timothy F. Kosinski, '84
2002 Dr. H. Robert Steinman, '73
2003 Dr. Richard J. Persiani, '73
2004 Dr. Jonathan P. Wiens, '73
2005 Dr. Donald Sherman, '63
2006 Dr. John A. DiBiaggio, '58
2007 Dr. Carl Misch, '73
2008 N/A
2009 Dr. Paul H. Pokorny, '78
2010 Dr. Richard Kulbersh, '75
2011 Dr. Nicholas Fontana, '72
2012 Dr. Michael Maihofer, '74
2013 Dr. Robert Legel, '54
Allied Dental Alumnus of the Year Awardees
1988 Ms. Pauline Schmidt, '55
1989 Ms. Mary Ann Hashimi, '71&
1990 Ms. Irene Woodall, '65
1991 Ms. Linda Popp, '72
1992 Ms. M. Elaine Parker, '64
1993 Ms. Janiece Popowich, '71
1994 Ms. Sherryl Harfst, '67
1995 Ms. Barbara Nelson, '59
1996 Ms. Linda Borowski, '59
1987 Ms. Annamae Manning, '52
1997 Ms. Jacqueline Oliver '66
1998 Ms. Janet A. Newman-Graham, '73
1999 Ms. Barbara Purifoy-Seldon, '70
2000 N/A
2001 Dr. Joah M. McGowan, '62
2002 Ms. Jane M. York, '73
2003 Mr. Edward L. Cleland, '74
2004 Ms. Barbara Posler, '70
2005 Ms. Karen McGuire Trompete, '74
2006 Ms. Kathi R. Shepherd, '82
2007 Ms. Margie Coleman, '74
2008 N/A
2009 N/A
2010 Ms. Judy Luxmore, '69
2011 Ms. Rene Louchart, '85
2012 Ms. Brenda Marriott, '74
2013 Ms. Colleen Kuxhaus, '73
Honorary Alumni of the Year Recipients
Dr. Chester K. Perry
Dr. Stephen Applegate
Dr. Anthony Cadaretter
Dr. Joseph L. Champagne
Dr. Albert H. Dredge
Dr. Kenneth Gibson
Dr. Chauncy Hall
Mr. Benjamin Levinson
Dr. P.C. Lowery
Dr. Walter McBride
Dr. A. Alfred Nelson
Dr. Rene Rochon
Dr. Alfred E. Seyler
The Very Rev. C.J. Steiner, S.J.
The Rev. Charles Wideman, S.J.
Dr. William Fred Longe
Mr. Victor De Schryver
1973 Dr. Martin Naimark
1974 N/A
1975 N/A
1976 N/A
1977 N/A
1978 Dr. William Travis
1979 Mr. Edward Hoban
1980 Mr. Peter Morgano
1981 Mr. Robert Miller
1982 Dr. Theodore G. Mahaz
1983 Mr. Frank Schumacher
1984 Dr. John Molinari









1985 N/A
1986 Mr. Gerald J Zedan
1987 Dr. Charles J. King
1988 Dr. Anna Ettinger
1989 Ms. Shirley Ann Wilson
1990 Prof. Pamela Zarkowski
1991 Dr. Robert Bruce MacIntosh
1992 Dr. Virginia Merchant
1993 Ms. Patricia Harris
1994 N/A
1995 Dr. Lloyd W. Lariscy, Jr.
1996 Mr. Eric Jacobs
1997 Dr. Maureen A Fay, O.P.
1998 Ms. M. Agnes Shoup
1999 Dr. Bruce S. Graham
2000 N/A
2001 Dr. Edward O. Blews, Jr.
2002 Mr. David P. Hafst
2003 Dr. Leon Herschfus
2004 Dr. Mert Aksu
2005 Dr. George Goodis
2006 Dr. S. Pamela Herrera
2007 Ms. Gerry Cherney, CAE
2008 Fr. R. Gerald Albright, S.J.
2009 Dr. Larry Anderson
2010 Dr. James Winkler
2011 Dr. Daman Thanik
2012 Dr. Gary Jeffers
2013 Dr. Sherif Badr