Community Based Dental Education (CBDE)
Our programs aim to provide students with community-based experiences, particularly in clinics located in underserved communities.  If you are interested in hosting students as part of our Community Based Dental Education course, please contact Gina Diakonov at diakonga@udmercy.edu or 313-494-6962.
Why CBDE is good for the student:
Cultivates a positive attitude in caring for underserved populations
Improves confidence by interacting with a diverse group of patients
Develops a provider who is able to reflect on the oral health needs of a community being served
Advances clinical skills by treating patients in busy patient-oriented facility
Why CBDE is good for the community:
Addresses the access to care issues for the population served
Increases the proportion of children, adolescents and adults who use the oral health care system, annually
Fosters better trust and effective communication regarding oral health within the community
Exposes students to careers in a safety net health center
Helps to achieve objectives set by Healthy People 2020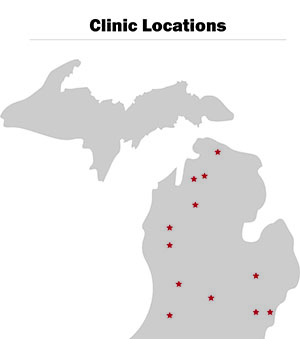 All of our partnering clinics are located throughout Michigan.  
Harrison
Hart
Ionia
Manistee
Inkster

Lincoln Park

Taylor