D.D.S. Program FAQs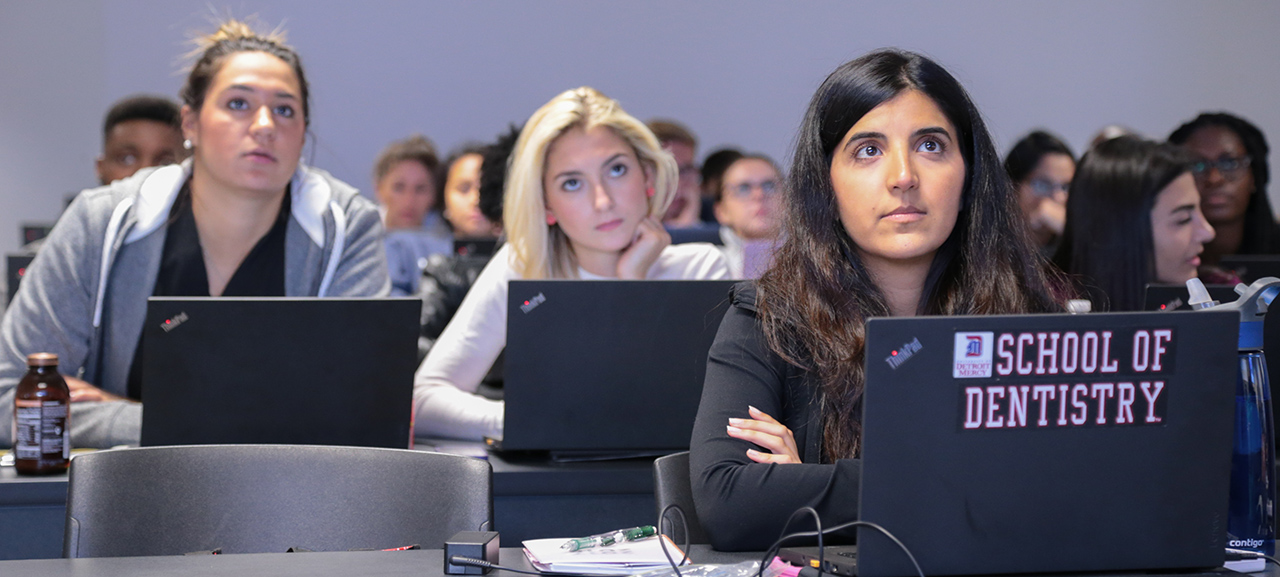 Academic Preparation
 

Do I need a bachelor's degree?

No. However, a degree is strongly recommended because it affords the individual with a broad, liberal education. A degree also provides one with a major field of study, on which to build, if dentistry turns out to be a poor career choice for the individual. However, an academically qualified applicant, who has done his/her dental career exploration can save time and money by entering dental school after three years.

 

May I apply after only two years of undergraduate school?

It is possible, but approximately 4% of two-year applicants are accepted nationally each year. If you are an outstanding two-year applicant, who really has explored the dental profession, we will consider you.

 

Does it matter what size academic load I carried in undergraduate school?

We recommend that applicants carry a full academic load (15-18 credit hours) per semester and suggest taking a minimum of 3-4 science courses each term. This gives you a chance to preview what is in store for you in dental school (i.e., a full course load, which cannot be taken part time). At the same time it, gives us the opportunity to better evaluate your chances of success in dental school.

 

Does it matter which undergraduate school I attend?

Generally, no. However, be certain that the college or university is accredited. The limit on community college education is two years (60 semester hours), after which you should transfer to a four-year university.

 

How will my application be viewed if most of my undergraduate course work has been completed at a community college at the time of my application?

In addition to reviewing the difficulty of your curriculum, academic achievement, and letters of recommendation, a heavy emphasis will be placed upon you Dental Admission Test (DAT) results

 

Must I major in Biology?

No. The choice of a major is yours. Choose a course of study of interest to you. It is true, however, that most Biology majors have an easier time with the dental school basic sciences than non-Biology majors. If your choice of major is a non-science one, you are encouraged to select "elective" courses in the sciences. This will enable you to build a stronger foundation for success within a dental curriculum.

 

Will courses in environmental or plant sciences fulfill the prerequisite courses?

No. These courses are not recognized toward fulfilling prerequisite courses. Biology and Chemistry courses with a primary focus on growth and development should be pursued toward fulfilling prerequisite courses for entrance into dental school.

 

Will English as Second Language (ESL) courses meet the prerequisite English requirement?

No. Neither will completion of English Language proficiency examinations (TOEFL). First year university courses in composition will satisfy the requirement (Composition I & II). Three semester hours of credit in literature may be used to satisfy part of this requirement - if the course description confirms writing was an integral element of the course.

 

In addition to the required undergraduate courses (Biology, Microbiology, Biochemistry, Chemistry, Physics, and English), what other courses are suggested?

Any course in Biology related to growth and development such as Comparative Anatomy, Physiology, Molecular Genetics, Cell Biology, Histology, Embryology, Immunology and Virology - to name a few. Biochemistry and Microbiology are required prerequisites for entry. Courses in Psychology/Human Behavior are very helpful when dealing with dental patients. Also, courses in Business such will help prepare for private practice. Medical Ethics is also suggested.

 

What if a grade(s) of less than "C" is received in a prerequisite course?

You should repeat the course and achieve at least a "B" grade or, take an upper-level course in the same discipline, and do well (achieve grade of "B" or better). Follow the advice of your advisor when choosing between these two choices. Remember that one of your goals is to earn the support of this important person.

 

Is there a minimum grade point average I must attain?

A minimum grade point average in science courses of 3.0 is recommended.

 

What if I have completed my undergraduate degree but feel my credentials are not competitive?

Continue to enroll in higher-level biologically based science courses. This is important! Consider initiating a Master's program (in an area of Biology). By doing this, you build a stronger foundation for a dental curriculum, improve your competitiveness by pursuing an academically challenged biology program, and perhaps obtain your MS degree at the same time!
Dental Admission Test (DAT)
 

When should I take the DAT?

In the spring of the year that precedes the anticipated date of entry. You may take the test earlier if required courses in Chemistry and Biology have been completed. Taking the test early gives the applicant the opportunity to retake the test if necessary. This also puts the applicant in line for an early decision. In the recent past, a significant portion of the entering class has been made up of people who took the test for the first time in spring or summer (prior to October 1) of the year proceeding the date of entry. Scores after December 31 will not be accepted.

 

How should I prepare for the DAT?

A set of sample examination questions is included in the registration booklet. To receive a registration booklet, contact:

Dental Admission Testing Program
211 East Chicago Avenue
Chicago, IL 60611-2678
(312) 440-2693
Web site: www.ada.org

Review the test material thoroughly (remember, practice makes' perfect!). Take the sample test with a clock to become familiar with the timed aspect of the examination. Frequently, candidates find questions from preparation materials repeated on the actual examination

Take a preparation course. Because the quality of the application pool to dental schools is increasing each year, it is wise to prepare yourself as best you can prior to your first attempt of the DAT. For information on Test Preparation Services, contact your preprofessional advisor or the dental school in your area or the web site listed below:

CD ROM: ScholarWare www.scholarware.com
Prep Course: Kaplan www.kaplan.com
Princeton Review www.review.com
Publications: Complete Preparation for the DAT www.wwilkins.com
Rudman's Questions and Answers on the DAT www.passbooks.com

Applicants receiving scores below 19 in any category are encouraged to attempt to improve those scores.

 

What is the minimum acceptable DAT score?

The minimum score is 19 in each section, however applicants are encouraged to achieve competitive scores of 20 or better in each category.

 

For how long a period of time are my scores valid?

 

Are Canadian DAT scores acceptable?

Yes. However, U.S. DAT scores are not acceptable at Canadian schools. This is primarily because the U.S. test does not have the chalk carving dexterity component required in Canada. A Canadian applicant intending to apply to dental schools on both sides of the border should take the Canadian DAT. For more information contact:

Canadian Dental Association
1815 Alta Vista Drive
Ottawa, Ontario K1G-3Y6
Telephone: (613) 523-1770
Web site: www.CDA-ADC.ca

 

How many times may I take the DAT?

We recommend a maximum of three attempts. An applicant who fails to achieve acceptable scores in three attempts should seriously consider their suitability for dentistry.
Letters of Recommendation
 

Who should I request to write letters on my behalf?

A composite letter of recommendation is required from you undergraduate college or university's Preprofessional Advisory Committee. If your school does not have such a committee, two letters from science faculty (by whom you have been taught) within prerequisite courses (Biology, Chemistry, Physics - non environmental) are required.

 

Although two letters from science professors are required, what do I do if my classes were large and the professors did not know me well?

Ask the professors you select to write letters, for an appointment. The purpose is to allow you to present yourself and your goals. Request supplemental, or additional, letters from humanities professors and/or teaching assistants. The most important part of any letter is some indication that the writer knows you reasonably well and supports your application.

 

Why must I submit a letter from a practicing dentist?

We want to be certain you have explored the dental profession and that your career choice has been made on the basis of sufficient exposure. A mistake in the choice of a career is extremely costly today in terms of time, effort, and money! Be certain that you have spent sufficient time in the dental office so you have seen the negative, as well as the many positive aspects of dentistry.

 

Must my letters be original, or will you accept photocopies.

Letters submitted directly to the School of Dentistry or to AADSAS must be originals, dated, signed and on official letterhead. Copies are acceptable when submitted with an original cover letter from a Preprofessional Committee or Career Planning and Placement Office.
Interviews
 

Is an interview required of all applicants?

 Yes. The Admissions Committee will invite candidates being seriously considered for an interview. We want to meet you and we want you to see our school. 
Application
 

How do I apply to dental school?

Visit the American Dental Education Association (ADEA) web site at www.ADEA.org. Click on "Student Applicant and Advisor Information, AADSAS, and PASS" and then, click, on "Associated American Dental Schools Application Service (AADSAS)". Applications become available June 1 in the year prior to the anticipated date of graduation. You may apply online.

 

How early may I apply?

AADSAS now has a soft open of the application portal about three weeks before the official opening in the first week of June (In 2019, May 14th soft open, June 4th official open).  Applicants are encouraged to submit their application to AADSAS as early as possible, but only when they feel they have the strongest application possible to put forward.  Applications are accepted until December 31.

 

Must I have all required courses completed before I apply?

No. As long as these courses will be completed before entering dental school, you may, and should, apply as early as possible.  Strong preference is given to applications with all prerequisites completed at time of application OR that show registration for prerequisites in future semesters.

 

How will I know when you have received my application from the application service (AADSAS)?

We will send you an email acknowledgment.  Ensure you have sent us your 2x2 photo and supplemental application fee of $125 US funds (certified check or money order, no personal checks).  Application review will be put on hold until the fee is received.

 

What is the deadline for applications?

Detroit Mercy Dental will accept applications until December 31. All materials must be received by this date.  

 

When will I be notified of acceptance?

By agreement among dental schools, acceptances will not be issued before the first Monday in December of the year proceeding the year of anticipated entry (in 2019, Monday, December 2). Applicants are accepted from that date until the class is filled.

 

What happens if the class is filled before a decision has been made about me? Am I eliminated for that year?

Not necessarily. When a class is filled, we begin a waiting, or alternate, list. If someone withdraws (and people do for many reasons), the Admissions Committee will select the most qualified person from the waiting list, regardless of when they were placed on the list.